About Dover-Randolph Friends Meeting
We like to think of ourselves as 'The little Meeting that could'. On any given First Day (Sunday), you will find between four and twenty people at Meeting, consisting of visitors, attenders and members.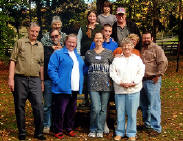 We are small and powerful, with very active committees such as Peace and Social Action and Ministry and Counsel. We are a friendly group of people, ranging from teenager to retiree, singles, couples and families. We warmly welcome visitors of any religious affiliation. Learn More.....
Upcoming Events:
September 17 – (Thursday) Sharing our spiritual stories, 7 – 9 PM.

October 4 – Breakfast Forum. Coffee and bagels will be served. Discussion will begin at 9:30 AM with the topic to be determined.

October 10 – Quaker Outreach Roundtable for Meetings in NYYM, 9:30 AM to 3:30 PM (coffee at 9 AM) at the Shrewsbury Monthly Meeting, 375 Sycamore Ave, Shrewsbury, NJ

October 10 – Friends Meeting House and Cemetery Association meeting, starting at 11 AM.

October 10 & 11 – Pathways of History Tour. The Randolph Friends Meeting House & Cemetery is one of the stops on this tour. For more details about this event, see the Pathways of history website www.PathwaysofHistoryNJ.com

October 11 – Meeting for Worship with a Concern for Business.

October 25 – All Friends Regional Meeting in Ridgewood. Christopher Sammond, General Secretary of NYYM, will be visiting to discuss revitalizing All Friends Regional Meeting.