About Dover-Randolph Friends Meeting
We like to think of ourselves as 'The little Meeting that could'. On any given First Day (Sunday), you will find between four and twenty people at meeting, consisting of visitors, attendee's and members.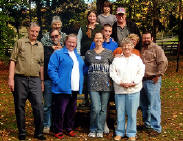 We are small and powerful, with very active committees such as Peace and Social Action and Ministry and Counsel. We are a friendly group of people, ranging from teenager to retiree, singles, couples and families. We warmly welcome visitors of any religious affiliation. Learn More.....
Upcoming Events: